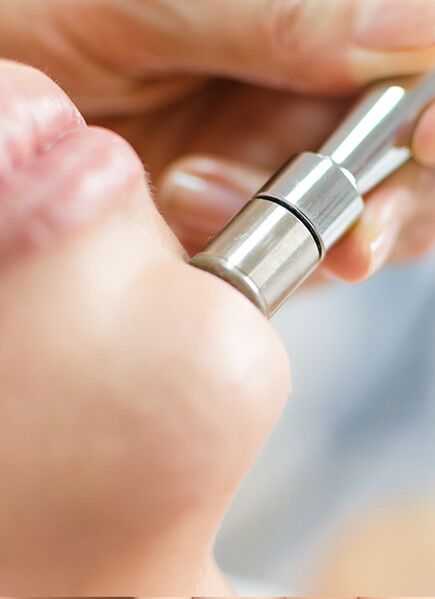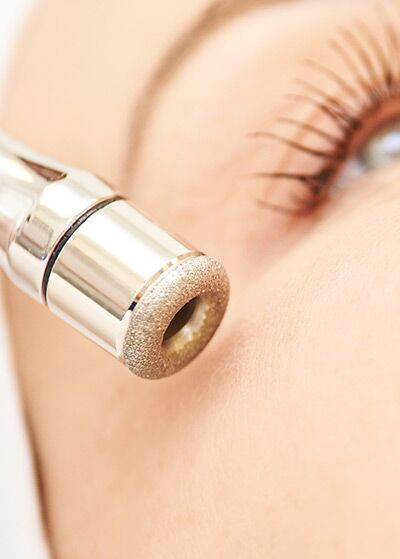 What is
Microdermabrasion?
Microdermabrasion, also known as Microderm, is one of the easiest and most effective anti-aging treatments provided by GraceMed. Skin is constantly exposed to external and environmental factors that can affect its appearance and overall health. Sun radiation, pollution, stress, and other factors can lead to skin dullness, brown spots and blemishes.
Microdermabrasion is a gentle treatment intended to exfoliate dead and damaged cells. The promotion of cellular turnover can reduce or eliminate irritation and inflammation very quickly.
How Microdermabrasion Works
Microdermabrasion is light "sandblasting" for your skin. The treatment consists of focusing tiny crystals of aluminum dioxide on the top layer of the skin. This removes old cells and allows healthy new cells to regenerate.
The procedure is comfortable and the results are visible within a few days. A typical microdermabrasion treatment takes less than 30 minutes and is suitable for a wide variety of skin types and tones.
Microdermabrasion is not just for the face! Microdermabrasion can also treat the:
Benefits of a Microdermabrasion
Microderm softens fine lines and wrinkles
Helps smooth coarsely textured skin
It can help decreases the appearance of scarring
Minimize pore size
Help reduces superficial hyper-pigmentation, also known as age spots.
Microdermabrasion makes it easier for high-tech skin care products to penetrate into the deeper layers of the skin and help build collagen, which gives skin its youthful appearance.
Things To Avoid After a Microdermabrasion Treatment
Skin can be sensitive for a few weeks after your microdermabrasion. GraceMed recommends staying out of direct sunlight and protecting with sunscreen to ensure optimal results. Avoid topical acne medications and any harsh skin protocols for a few weeks while keeping your skin hydrated.
Types of Microdermabrasion
SilkPeel Dermalinfusion
SilkPeel is a type of microdermabrasion that offers several added benefits to standard microdermabrasion. Similar to microdermabrasion, it gently clears dead skin cells from the epidermis that cause our skin to look uneven and dull. SilkPeel is unique as it infuses medical-grade nutrient-rich solutions into the skin at the same time as the microdermabrasion. It does all of this without the discomfort normally associated with traditional microdermabrasion.
Silkpeel goes beyond traditional microdermabrasion as it utilizes a patented handpiece that combines medical-grade diamond treatment heads with a pneumatic vacuum system to achieve Dermal infusion. SilkPeel is an enhanced treatment that simultaneously exfoliates and evacuates while delivering nutrient-rich and condition-specific topicals deep into the skin. The proprietary diamond treatment heads utilized by SilkPeel make the treatment more comfortable than the traditional abrasive particles used in microdermabrasion treatments.
SilkPeel is a clinically proven skin resurfacing treatment and can be used as a stand-alone procedure. SilkPeel can be used in combination as a gentle final step to facial surgery procedure. Also can be used in combination with a SkinTyte procedure, or a final step to skin rejuvenation. SilkPeel treatment will make your skin look and feel absolutely wonderful.
Benefits of a SilkPeel
SilkPeel Dermalinfusion offers a variety of skin purifying benefits including:
Diminish fine lines and wrinkles
Revitalize dull, tired-looking uneven skin tone and texture
Help to correct acne and acne-related scarring
Minimize enlarged pores
Help to repair sun-damaged, and melasma
Treat brown spots
Smooth away external environmental debris on the epidermis
Improve skin firmness
Stimulate natural skin cell regeneration, and collagen production
The infusion of patient-specific topical solutions combined with effective abrasion allows SilkPeel operators to address many different conditions. SilkPeel procedures can assist in the improvement of the skin in many ways, including:
Clarifying oily, blemish-prone or acne-prone skin
Moisturizing dry, flaky patches or fine lines and wrinkles
Brightening red, or blotchy patches, skin that has been overexposed to the sun, or just needs a brightening boost
SilkPeel is also fantastic as a pre or post-operative procedure to improve results of IPL, Laser or other cosmetic and medical procedures.
Microdermabrasion Treatment Overview
Objective: Address the signs of aging
Anaesthesia: None
Procedure duration: 30-45 minutes
Pain level: 2/10
Recovery time: 10 days – slight redness
Resumption of physical activities: Immediately
A Microdermabrasion is Offered At These GraceMed Clinics:
Generally, most people who have this procedure are extremely happy – A microdermabrasion has a 95% "Worth It" rating on RealSelf.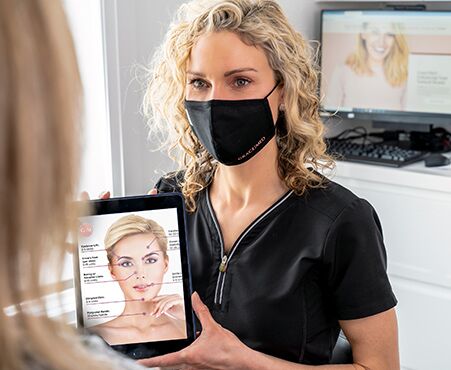 Save $50 on your first non-surgical Treatment!
Save toward your next Non-Surgical procedure if you book an appointment today!
Offer has no cash value and not valid in conjunction with any other offers. Can only be used if the procedure is booked. Not valid for skincare products. New Patients only.
Book an appointment
Locations where this procedure is offered
How Does a Microdermabrasion Work?
A microdermabrasion is a non-invasive skin treatment that exfoliates and removes the dead, dull, outermost layer of skin. Often referred to as a micro or microderm, this gentle and invigorating treatment leaves your skin clean, clear, bright and purified.
What is the Difference Between a Facial and a Microdermabrasion?
Microdermabrasions are different to a regular facial, as they use active skin care products and advanced technology to exfoliate the dull, dead, outer surface of the skin, leaving it clear, bright and purified. Most notably, microdermabrasion treatments feature the use of diamond-tipped machines and vacuum suction to extract debris from your pores and collect dead skin.
How long will my Microdermabrasion Take?
GraceMed offer a selection of time options and treatment types to suit your preference and lifestyle. Treatments can range depending on how intensive you want your treatment experience to be. As a walk in, walk out treatment, you can even enjoy a microdermabrasion during your lunch break with no downtime.
Will a Microdermabrasion hurt?
Microdermabrasions are non-invasive treatments that targets the outermost layers of the skin. The diamond-tipped suction machine feels like tiny sand-like particles running across your face; a weird sensation but not painfull at all.